The area of design that I'm most interested in the moment is web design. Currently I'm taking a class that teaches us to mash up sources of information on the internet into a new website. It focuses more on the technical side, but I also want to develop my design skills so I made for myself and other people this little guide about what I consider the principles of modern web design.
"Ruthless simplicity"
Flat and minimalistic design became basically the standard in the industry. If you don't know about it just google it and you'll find some great professional resources on the topic.
One new development in the topic is the usage of universal icons. Icons are usually shorter than words and easier to recognize. If we develop universal signs like the little house figure for "Home" or the 3 lines as a menu button, websites can be further simplified making those minimalist people happier.
My other advice is to keep the site structure as simple as possible, with the least amount of pages and streamlined navigation. Too many options ensure NONE will be chosen. A good example for this principle are the long scroll pages, which are several pages stitched together and you just have to scroll through them. These long scroll pages are also good to tell stories (Great Example).
One another new area in the topic is Google's Material Design, which brings in a more detailed design but keeping the clean look.
And if I mentioned all these mainstream ideas in this bullet point I cannot forget about responsive design either. Again there are other people who can explain this much better than me.
Engage and interact
Try to engage your reader with the content through little games, or story telling. It makes your website instantly stand out. One way is to create an app like interface with sliding panels and cool animations.
Here's a fake button to make you think there is interaction on my blog. Do not click on it!
Design common sense
A typeface can transform the whole world. Ok, not the world but your website definitely. A good typeface can make a huge difference in whether your site is cool or not.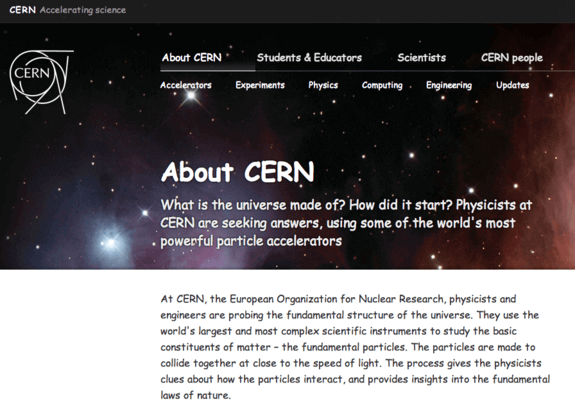 Use visual hierarchy to highlight what is important to your reader. You can always bet on the fact that nobody is actually reading your website. They're just skimming it for useful information. So you should put the most important pieces of information in their faces with frames, enlargement, using colors, or by blurring unimportant things…
When building a website look for 3-4 colors using basic color theory (Adobe can help) that fit together, decide on their roles and stick to it consistently.
But you also have to design your content consciously. Write for your audience, be concise, and make sure your framing correctly what you're saying. I.e. "You can save $30 by signing up," is weaker due to people's loss aversion than, "You're losing $30 if you don't sign up."